…and, the Tradition of Saint
Nicholas
!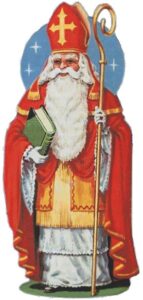 Saint Nicholas Day is a festival for children in much of Europe today.  It dates back to surviving legends of the saint, and particularly his reputation as a gift-giver.  The American "Santa Claus" (Anglo-Canadian and British "Father Christmas") is derived from this festivity and is a simplified transliteration of the Dutch word "Sinterklaas."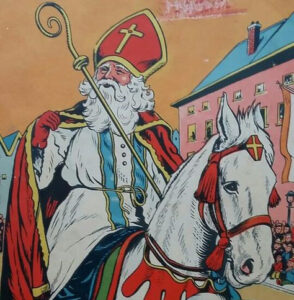 THE HISTORY: Did you know that it was Dutch Immigrants who brought the tradition of Santa Claus to the rest of the world? It all started way back in the 4th Century when a Bishop in Turkey named Saint Nicholas became widely known for his good deeds with poor children in Europe. His feast day became known as the Celebration of Sinterklaas and was held on December 5th and 6th. Saint Nicholas is also known as the patron saint of Amsterdam. Many different versions of his story are told, but there are some common characters in each. First is Saint Nicholas himself.  Secondly is his companion, Zwarte Piet (Black Peter). Zwarte Piet is said to be a Turkish orphan that traveled as Saint Nicholas' helper. His darker Turkish features must have seemed black to the fairer 4th Century Dutch. Then there is Schimmel, Saint Nicholas' fine white horse.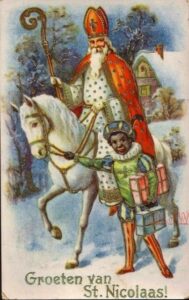 THE LEGEND: Saint Nicholas is pictured in medieval and renaissance paintings as a tall, dignified man dressed in red vestments carrying a Bishop's golden crook. Zwarte Piet is depicted in garish Turkish garb with bright red lips and a gold earring. The legend describes Saint Nicholas and Zwarte Piet traveling from their home in Spain across Europe helping the poor and bringing food to children. Through the ages, the story of Saint Nicholas astride his white horse with this helper Zwarte Piet grew into a tradition to celebrate the feast day (December 6th). Saint Nicholas would travel to Holland on a steamship from Spain. He would leave Spain in mid-November and arrive on December 5th, just in time to give small gifts and treats like "pepernoten" (ginger snaps), "chocolate initials," "marzipan figures," and "fruit," to the children. In the past, Saint Nicholas carried a Birch switch used to punish children who were naughty and Zwarte Piet was said to put bad children in his sack or would leave them a lump of coal in their shoes instead of treats. Today, Saint Nicholas is portrayed as a gentler figure and Zwarte Piet is a jokester.
SINTERKLAAS COMES TO NORTH AMERICA: The tradition of Saint Nicholas came to North America with Netherlands Protestant Settlers in New Amsterdam, now New York.  At that time, the holiday gift-giving at the celebration of Saint Nicholas' feast day was separate from the more sacred celebration of Christmas on December 25th. It wasn't until the publication of "Twas the Night Before Christmas" by Clement Clark Moore that Santa Claus as a "jolly old elf" with reindeer was born. Of course, the Santa Claus legend also has helpers who are elves and who also know "who's naughty and nice."
SINTERKLAAS TODAY: Today children in Holland still look forward to the arrival of Saint Nicholas. Saint Nicholas Day eve (December 5th) is the occasion for gift-giving when his alleged birthday is celebrated. Children are told that Saint Nicholas is very busy and has many "helpers" who dress like him and Zwarte Piet so that no child is left out. On that night, children place straw or carrots in their shoes near their front door for Schimmel, and Saint Nicholas replaces these with gifts and treats.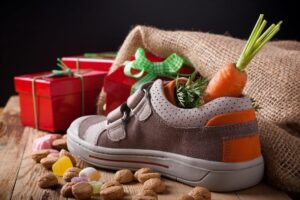 Adults will also exchange gifts during the St. Nicholas Day celebration.  And often they may attach a funny poem or verse.  Christmas Eve and Christmas Day (December 24th and 25th) are typically celebrated with family gatherings and meals rather than gifts; although, some Dutch people will also exchange gifts at that time as well.  Another part of the fun of St. Nicholas Day is how presents are hidden or disguised. Recipients often must go on a treasure hunt all over the house (aided by hints) to look for them. They must be prepared to dig their gifts out of the potato bin, to find them in a jello pudding, in a glove filled with wet sand, in some crazy dummy or doll.  Working and searching hard to find your presents, and working even harder to think up, prepare and hide presents for others, is part of the fun associated with this celebration.
In other countries where there are people of Dutch heritage, the tradition of Sinterklaas lives on. Saint Nicholas often comes to visit with Zwarte Piet, and children sit on his knee and are asked if they have been good. Zwarte Piet always tries to put one of the children in his sack, but he always lets them wiggle out again. Treats of ginger snaps (pepernoten), chocolate and candy are given to each child. In many homes, families continue the tradition of exchanging chocolate initials of the first letter of each person's name.  The Families look forward to all the treats available during Sinterklaas time: including, almond rings (rich pastry wrapped around an almond filling) and marzipan (almond confectionary molded into fun shapes).
In Germany, Saint Nicholas Day is usually celebrated on a smaller scale. Many children put a boot (called Nicholas-Stiefel) outside their front door on the night of December 5th to December 6th. Saint Nicholas fills the boot with gifts, and at the same time checks up on the children to see if they were good. If they were not, they will have charcoal in their boots instead of treats. Sometimes a disguised Nicholas also visits the children at school or in their homes and asks them if they "have been good" (sometimes ostensibly checking a book for their record), handing out presents on a per-behavior basis. This has become more lenient in recent decades.
EDGAR FAMILY TRADITION: When our family lived in Germany, we celebrated Saint Nicholas Day each year. Often, we would hire the "local" Saint Nicholas and Black Peter (of course, these were "helpers!") to come to our home on the evening of December 5th. Each child would faithfully put out a single shoe or boot well before Saint Nicholas would come by to visit. On a few occasions during his visit, they had an opportunity to talk to Saint Nicholas and tell him how good they have been.  Afterwards, they retired to their beds and waited with excitement for the morning (December 6th) to collect their gifts for "being good!"
Today, many in our family continue to celebrate this family tradition in their individual homes.  It has been a fun tradition for many years.  And, it's a fun tradition for both children and adults.  Why not celebrate Sinterklaas or Saint Nicholas Day this year?
---
"Happy Saint Nicholas Day …to all!"
When:
December 6th
What children should do:
1.  In the early evening of December 5th, have each child put out one shoe or boot on your front porch, just outside your front door.
2.  Anticipate a visit from Saint Nicholas (or his helper) during the night, and
3.  Remember to be Good!
Note to Helpers (Moms & Dads):  Make sure Saint Nicholas (or one of his helpers) visits your home at night while the children sleep.  And see that during the night "the helper" leaves a treat (and/or a small gift or two) in or near each child's shoe(s).
It can also be especially fun if you could find or "hire" a "local" Saint Nicholas and/or helper (of course, these are both "helpers!") to come to your home in the early evening of December 5th and have a short visit with your children.  If you do this, be open with the children and let them know Saint Nicholas may come by that evening "to check on them!" Have the children place one of their shoes just outside the front door.  In their excitement, each child could faithfully put out a single shoe or boot well before Saint Nicholas arrives. This can also be a very sweet and tender moment allowing the little ones an opportunity to visit and to talk to Saint Nicholas (or his helper) in the comfort of their home.  After the short visit, the little ones would have much to think about as they wait with excitement for the morning (December 6th) to collect their little treats and gifts "…for being good!"
---
(Please close the tab (above) to return to the "Some Christmas Favorites" page.)