Thank you for visiting my blog site.  I am Scott A. Edgar, and this is my site.  It's a work in progress.  I have recorded and hope to continue recording, many of my thoughts, insights, and writings.  My initial and continued intention is to share some of my thoughts and insights with my family.  I want to tell them as clearly as I can what I think is most important.   I hope they will read these things and know something more about who I am, about what I know and believe, about my joy, and about what has been important to me.  I try to add something regularly.  I enjoy recording my thoughts and I do not have any plans soon to stop.

I grew up in the San Francisco Bay Area, born and raised. I spent many Saturdays (all day) fishing under "the Golden Gate Bridge."  In those days, a young boy could go anywhere in the city for a 15-cent transfer bus/trolley ticket; …just hop on and hop off. On "no school" days, my mother would often give me a brown bag with lunch, and just send me off for the day.  If I hadn't had enough for breakfast, she would often make me an "eggy sandwich" to start the day (an eggy sandwich was a hot fried egg, cooked over easy, and placed between two slices of buttered white bread, umm, umm!).  Anyway, for me, the city was a magical and safe place to be.  I loved baseball and enjoyed watching or listening to games at old Kezar Stadium.  I remember when the New York Giants ball club transferred to San Francisco and the Brooklyn Dodgers moved to LA (both teams made the move around 1960).  Those were great days for the city.  I also loved fishing at Old Fort Point underneath the Golden Gate Bridge, hanging out at the Cliff House, Sutros, and Playland at the Beach, and exploring the Golden Gate Park and Fleishhacker Zoo.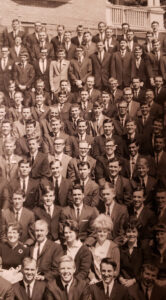 I graduated from Cupertino High School (California) in 1964.  My mother and father were divorced several years earlier (when I was 8 years old), so after High School, I moved to Southern California to spend time with my Dad.  His band (the Mel Edgar Trio) was playing nightly at a nice hotel lounge across the street from Disneyland.  When I turned 19 years of age, I was given an opportunity to serve a two-year proselyting mission for the Church of Jesus Christ of Latter-day Saints.  My mission assignment began in March 1966.  The Vietnam War was just ramping up and many of my friends were being drafted into military service.  However, I was granted a ministerial deferment (for two years), which allowed me to accept a two-year mission assignment, and I was assigned to the North Central States Mission.  The mission was in Minneapolis, Minnesota.  Full-time missionary work changed the direction of my life.  Not only was I able to teach the restored gospel, but I was also able to grow up and learn valuable principles.  I learned who I was, and I gained a firm testimony of the Lord Jesus Christ.  In addition, I gained valuable life skills and good habits, such as goal setting, self-discipline, punctuality, personal cleanliness, self-reliance, kindness to others, and so much more.
When I returned home from the mission field (April 1968), I was instructed to report to the military service draft board.  I was certain I would not be accepted because I had a heart murmur or something that almost kept me from serving a mission.  So, I confidently reported to the draft board.  They scheduled me for a physical, and much to my surprise, I passed!  I was told I would receive my Army draft notice in the mail within the month.  Well, before I got the draft notice, I stopped by the Air Force recruiter's office and joined the United States Air Force.  I began active duty military service on September 8th, 1968; and, I was trained as an Air Intelligence Technician and an Arial Photo/Imagery Interpretation Technician.  Ultimately, I made the Air Force my career.  I served tours in England, Southeast Asia, and Germany.  I separated briefly from the service long enough to attend and graduate from Brigham Young University-Provo with a bachelor's degree in International Relations.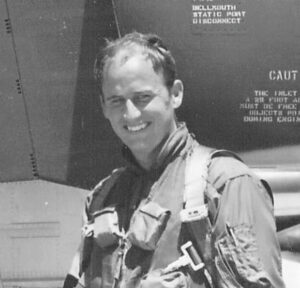 After graduation, I reentered the Air Force and served as a Foreign Affairs Officer (FAO).  My primary area of responsibility (AOR) was the Middle East.  I served as an area specialist, analyst, and briefing officer.  I lived and traveled in many countries (Far East, Western Europe, and the Middle/Near East).  On December 31, 1993, I retired from the Air Force after serving 24 years on active duty (plus a few years at BYU).  For me, military service became my life; it defined me.  It was a challenging career full of growth, learning, and excitement.  Except for a lonely one-year combat tour in Southeast Asia (the longest year of my life), I fully enjoyed serving.  It was a great honor.
While on active military duty, I also had the privileged of being married to two amazing and wonderful women, both of whom supported me in my military service and all our many travels.
My first wife was my dear Jenny Marie.  We met shortly after I returned from the Mission Field.  Jenny always made me happy just being with her, and she made me a better person.  We spent 15 happy and wonderful years together, growing, raising a family, and learning.  We were "a military family," and we loved our life.  All but one of our seven (7) children were born overseas.  But sadly, on the evening of April 8th, 1984, Jenny died suddenly in my arms at home (a congenital heart condition).  She was only 37 years old!  I was devastated.  Without her, I felt lost and did not know how to move on.  Instantly, I became an "unworthy" and humbled single parent with seven (7) children.  This was hard, not only for me but for our children.  How were we to manage without our Mom?  It was a life-changing event for all of us.  But, as we moved forward, I found that the Lord is merciful and makes compensations.  With the Lord's help and the tremendous support and compassion of the United States Air Force, we survived and stayed together.  I love and appreciate my children.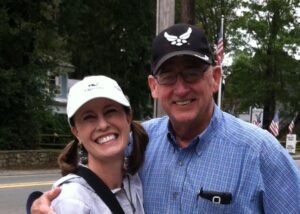 Then, about six years later, I was guided to and found another wonderful lady, my patient, and loving Kathy.  We met at a Single Adult Conference in Long Beach, California.  When we first met, she referred to me as "the Captain with Seven Children" (a reference to the Von Trapp Family in The Sound of Music movie).  We laughed together and I really enjoyed her company; and, it did not seem to bother her that I was "a military man," nor that I had seven (7) children at home.  Apparently, she was able to see beyond the obvious challenges.  We dated and spent quality time together (as individuals and with our children).  Over a relatively short time, we fell in love and Kathy agreed to marry me.  We have been together now and happily married for more than 30 years.  She is amazing!
All combined, we have raised ten (10) beautiful children.  They have all grown now and have families and children of their own.  Currently, we have 32 wonderful grandchildren who call us "Papa and Nana."  I love them all.  Without question, love has no bounds!
After serving 24 years on active duty, I hung up my uniform and retired from the United States Air Force.  My retirement ceremony was held at Hickam AFB, Hawaii.  Afterward, we moved to and settled in Henderson, NV.  Kathy resumed her Nursing career, and I struggled to find work.  Apparently, my specific military training and skills were not in high demand in Southern Nevada.  So, at length, I went back to school to study computer networking and repair.
Eventually, I found work at Boulder City Hospital and worked my way up to become the hospital IT Manager.  I enjoyed working with my hand on computer hardware and computer network technologies.  While in Southern Nevada, I also gave into my long long dream of owning my own horses.  We bought some of these beautiful creatures and purchased a corral for them at the local Horseman's Association.

After about 12 years in Southern Nevada, the City of Henderson became too crowded for us; so, we decided to move on.  We packed up, sold our home, loaded the horses in a trailer, and drove north.  We settled in Sanpete County in Central Utah, bought a small ranch outside of Spring City, and began living the dream.  We had horses, dogs, and cats.  Kathy continued her nursing career in Sanpete County, and I started a small computer support business in a nearby college town (Ephraim).  After the children moved out and began their own families, our home in Spring City became a favorite destination spot for the grandchildren.  We loved it.  It was a happy place for all of us.  Plus, with our horses, dogs, cats, "and sheep," it became a peaceful and relaxing place to be.  I was truly living the dream of my lifetime.  I loved waking up in the morning and beginning each day.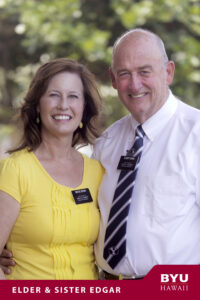 We continued to live that dream for more than 10 years.  Then, in December 2016, there came a phone call from a friend asking us to accept a Full-Time Senior Missionary assignment for the Church.  After prayerful consideration, Kathy and I decided it was the right thing to do.  We interviewed with our Bishop, filled out our papers, met with our Stake President, and submitted our papers to Salt Lake.  Several weeks later, we received a package from the Prophet (Thomas S. Monson).  We were called to serve in the Hawaii Honolulu Mission and assigned specifically to Brigham Young University-Hawaii (BYUH).  Well, then what?  We put our home up for sale.  I sold my truck.  With the help of many of our children, we held a successful "Garage/Barn Sale."  We also sold our horses (ouch!).  We received (and accepted) a good offer on our home.  And, with the help of good neighbors and friends, we hauled all our "do not sell" items to storage units. (Of course, all the above took several weeks.)  In the end, we did a "white tornado" clean-up job on the house and packed our Honda with our mission travel bags.  We gave our farewell talks in church on April 30th; then, on Monday morning, May 1st, 2017, we left our home in Spring City and drove north to Provo.  We entered the Provo Missionary Training Center (MTC) at about 11:00 am.  After five days of inspirational training and learning, we drove out of Provo heading south towards Southern California.  On the way, we stopped at the Title Company and signed the documents selling our home.  Afterwhich, we continued our journey to the Long Beach harbor to drop the Honda off for shipment to Hawaii.  Our son Sam drove us to the Los Angeles airport (LAX).   Upon arrival in Hawaii, we were met at the Honolulu Airport by our mission supervisors (Elder Brad & Sister Marsha Dee) and driven to our missionary apartment in Laie, near the BYUH campus.  Our mission call was a two-year assignment to serve in the Hawaii Honolulu Mission and specifically at Brigham Young University-Hawaii (BYUH).  Sister Edgar's mission assignment was to serve as the Visiting Home Nurse for the Married Student Mothers (and their babies), and I was assigned as a BYUH Computer Support Technician.  My specific duties were to serve as the Database Administrator of the BYUH Conduct Manager Software.  In addition, I often conducted interviews and investigations of reported student misconduct; and, I taught the Leadership Pattern Classes on campus: "Lead Like the Savior."
Brief Mission Homecoming Report
After 23 months in the mission field, we returned home on April 2nd, 2019!  We then began our "pilgrimage" to revisit our wonderful but dispersed family.  It has been so exciting!!!  Sister Edgar (Kathy) and I had the time of our lives traveling, visiting, and reconnecting with our children and grandchildren. First, we had an emotional reunion when we came down the escalator at the Salt Lake Airport to a joyful band of sign-carrying and waving loved ones. It took a few days to settle down after that.  But, eventually, we got on the road and visited as many loved ones as possible.  We traveled to Utah, Nevada, California, and Arizona (Kathy even traveled to Massachusetts to visit her folks).  This time has been an emotional and joyful period for us, but it has also been stressful. We miss our friends and life in Hawaii; we miss the honor of wearing our missionary name tags; our daily routines have changed; we suffered a little from jetlag; and; we had (and still have) much to do to reconnect with reality. But it is so wonderful to have family and friends and to be loved. We have much to be thankful for, and we have Hope in the future! We love the Lord, we love our family and friends, and the Gospel is True. Hurrah for Israel! We are so very blessed.
Currently, we are working and trying to settle down.  Kathy has been hired at Cedar City Hospital (Intermountain Healthcare) as a Labor & Delivery Nurse and a Lactation Consultant.  I am retired and work as a Hobbyist around the home.  We bought a nice home in the City of Enoch, UT (see the note below).  We moved in July 1st, 2019.  Life is good!  The Cedar City area is wonderful; we love the people in our Enoch 6th Ward and neighborhood, we love the new Cedar City Utah Temple; and, it appears the city is at a geographical crossroads for our family.  Now is not that convenient?  Hurrah, Hurrah for Israel!
Note: If you thought the City of Enoch was translated, well maybe you're right (Genesis 5:21-24 and Moses 7:69, 21).  But, it may have returned …perhaps to pick up a few more travelers.  I don't know for sure!
---
Click here to return to my Blog Home Page.