In September 2012, Kathy and I (with our daughter Sara) were on a train from Germany heading for Grindelwald, Switzerland.  The ride took us from Nuremberg to Stuttgart, to Luzern, to Interlaken, and finally into the Swiss Alps to Grindelwald.
Wow, what a beautiful train ride through Switzerland.  But, the views in Grindelwald were even more breathtaking.  From the high Grindelwald valley, we could see clearly the Eiger, the Monch, and the Jungfrau Mountains.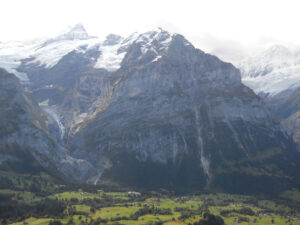 And the valley was one of the most picturesque valleys I've ever seen.  Tall mountains, trains, chalets, green grass with large grazing cows, and sheep all were laid out like something we've seen in The Sound of Music or at a fictitious place like Disneyland.  But this was the real deal.  It was breathtaking.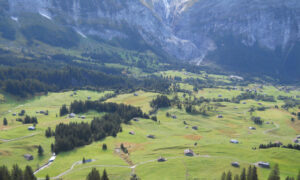 We stayed in a chalet-like hotel (Hotel Panorama) located about 20 minutes from the train station.  It was a beautiful spot with great views from our balcony.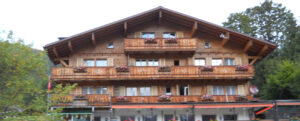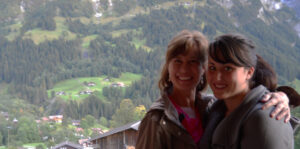 That evening we were hungry, so we went for a walk in search of a restaurant.  From the hotel, we walked along a narrow, paved mountain road for about a half mile before coming upon a lovely hotel/restaurant.  We shouldn't have eaten there, but we were hungry.  It was a white table cloth restaurant featuring a very expensive menu.  And, I think we were one of very few guests.  Anyway, we ordered the food, it came, and it was delicious.  Unfortunately, the meal cost about 160.00 euros.  Oh well, we deserved a good meal.

Before we left, Kathy began to feel a little ill.  She thought there might have been something she was allergic to in the food, so she took a dose of her Benadryl medication.  On the walk back to the chalet, she began to feel worse.  By the time we got to our room, she was breaking out in hives over several parts of her body. Her airway was itching and swelling and even the quality of her voice changed.  We all became very worried, so Sara began searching the phone book for a local doctor.  Soon, Kathy began having difficulty breathing and her condition was getting worse. Sara was able to find an after hour's emergency number.  She called, but they told us there were no doctors available after hours in Grindelwald, and we should take Kathy to Interlaken for treatment …about 45 minutes away.  We didn't have a car, and buses and trains had stopped for the night.  Our only option was to take a taxi cab.
Sara called for the cab while all the time Kathy was trembling and seemed to be getting worse.  I could tell she was very frightened.  As a Registered Nurse (RN), she knew her condition was serious, and she feared she would not survive the taxi drive to Interlaken.  At that point, Kathy asked for a Priesthood Blessing.  First, we all prayed together, then I administered a blessing as I listened carefully to the spirit.  After the blessing, Sara went outside to meet the cab driver.  Just minutes later, Kathy became very sick to her stomach and threw up her food.  Then like a miracle, her breathing eased and she began to feel better.  I checked her hives and they were subsiding.  She began to relax for the first time since the onset and she sat up in bed.  Sara and I still wanted to take her to the hospital, but Kathy felt so much better and insisted that she didn't need to see a doctor now.  She said, "I just want to stay here and sleep.  I'm feeling better.  I want to relax."  Well, when the taxi arrived we paid the driver his basic fare and thanked him.  Then, we returned to be with Kathy.  Later, Sara said that she "has always felt the Spirit most when there's a Priesthood Blessings."  And she added, "I think we've witnessed a miracle."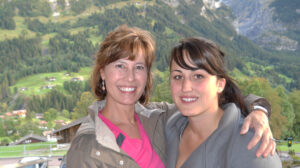 The next day, Kathy was like a new person.  She could still feel some of the effect of the hives, but overall she felt good and wanted to walk about town and see the sights.  We took the bus down the valley to Grindelwald, left our bags at the train station, and went off on an adventure walk in and around town.
---
Click HERE to return to my Index of Blogs page.