I am a visual and hands-on learner.  I can learn a subject much more quickly if I have something to look at (e.g., objects, diagrams, and maps), touch them with my hands (hands-on), and read about the subject.  I am usually a good listener, too.  So, verbal instruction also helps.  I do much better if I have multiple types of input.
That said, I have created an aid that helps me as I read the Book of Mormon.  And, I want to share this tool with anyone who may be interested.  It is NOT meant to represent a precise or realistic map of Book of Mormon lands.  It is just a simple diagram attempting to depict the key groups (people), relative places, and events mentioned in the Book of Mormon record.  It represent events that occurred before the missionary journeys of Alma (the Younger), Amulek, and the sons of Mosiah.  I have NOT attempted to diagram the "war chapters," nor have I attempted to diagram the glorious events surrounding the marvelous visitation of the Lord Jesus Christ among the Nephite people (3 Nephi 9-30).  Again, this is just a simple diagram, and it is not to scale.  It only shows the relative associations of the key groups, places, and events, as mentioned.  I hope it will be of some use to you and to others.
Note:  You are also welcome to open and print the "Suggested Map Timeline."  It's a helpful tool as you read along in the Book of Mormon and follow the diagram.  Just click on the link and print it off for quick reference.
Graphic #1: A Simple Diagram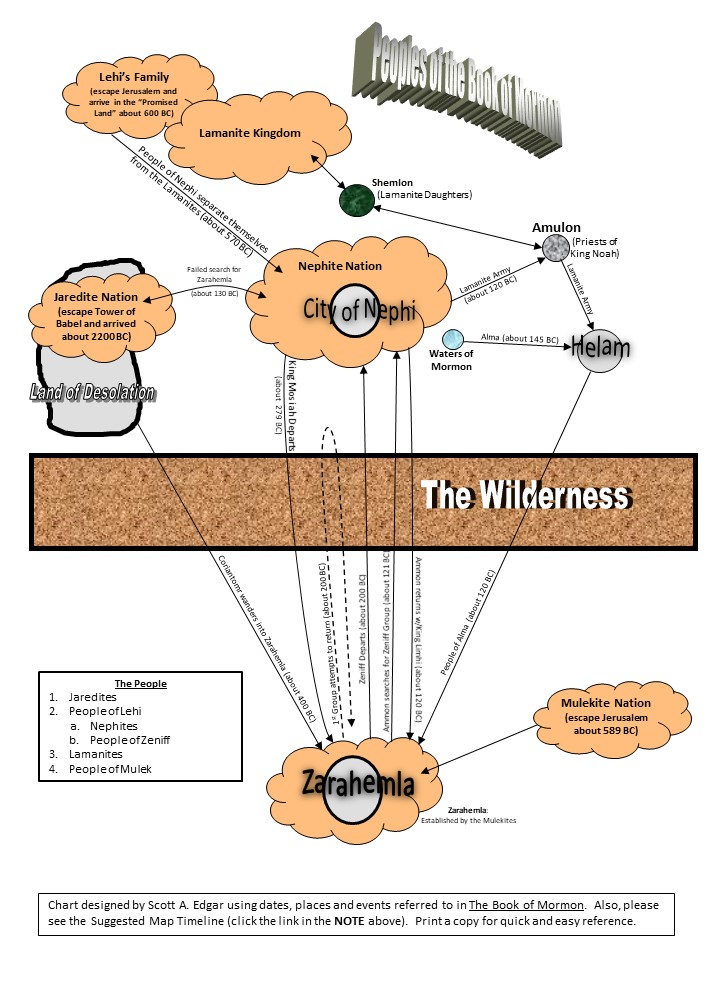 Graphic #2: A PowerPoint Presentation:
If you would like to view an interactive PowerPoint Presentation illustrating a sequential timeline of historic Book of Mormon events, please click Book of Mormon Events Presentation, or on the link below.   When you do, an executable link will be placed at the bottom of your screen (lower left corner).  Then, when you subsequently click on that executable link, the initial PowerPoint screen will open.  At that point, you can either save the document to your computer and view the presentation, or just begin to view the presentation (by clicking on the

symbol at the bottom right side of the PowerPoint screen).  Note: When finished, click on the "X" in the upper right corner of the PowerPoint screen to close and return to this page.
Here's the link to the presentation: Book of Mormon Events Presentation
Please note, this site is protected by both Norton Security and Web Hosting Security.  It is safe and secure!  Thank you, SAE
---
Click HERE to Return to the Index of Blogs.